Commuting by bike is simple, affordable, convenient and reliable. Having the right gear to do it will improve the experience and enhance your safety.
We've put together this list of must-have commuter bike accessories so you can equip yourself for regular daily riding to school or the office.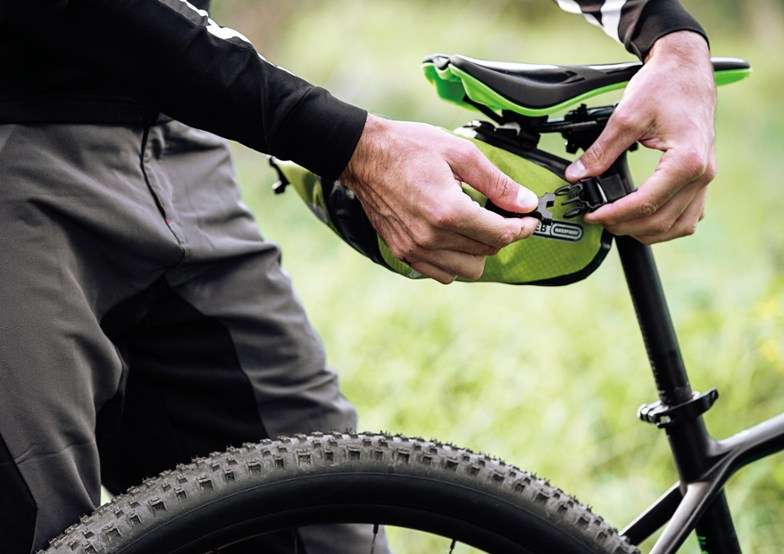 Commuter bike accessories
Laser-enhanced bike light
Riding your bicycle at night can be arduous if you can't see the road clearly. A laser light plays a key role in mitigating this problem, but it does something extra: It helps vehicles see the road you're riding on as well.
These lights combine a regular bike light with a laser that "paints" the road up to six metres ahead. This alerts pedestrians and drivers that a bike is coming their way.
Find a laser bike light that is durable and waterproof, because they can be a big help during the rainy season. Most are quite easy to install.
Check availability
Saddle bag
Do you need some extra storage space? If so, a saddle bag comes in handy. It's a small bag that you can attach underneath your bike's saddle to store some of your light belongings.
Saddle bags made of quality material are quite durable. They're essential for a cyclist who wants to carry a phone, wallet or small bike repair tools without carrying a pack.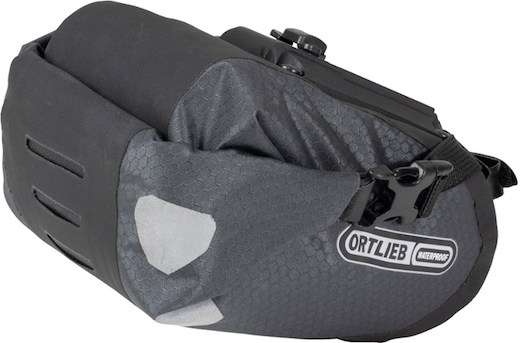 Check availability
Helmet
As obvious as it may sound, a helmet is an essential accessory for cyclists. In many states it is mandatory to wear a helmet. We hope you never need it, but if you do have an accident a helmet can protect you from lacerations or serious brain injury.
Take a look at our posts on stylish bike helmets and helmets for large heads.
Check availability
U Lock
At some point, you're going to have to leave your bicycle and dash into a store. Enhance the security of your bike in these situations by buying a quality bike lock.
A U Lock protects your bicycle from being stolen or even damaged. They usually have high-end security features. Some advanced locks can even send you updates on your mobile phone regarding the status of your bike. There is no doubt that a bike lock is an important accessory.
A chain lock is another option for bike security. Learn about the difference between a U-lock and chain lock before you decide on a type of lock.
Check availability
Water bottle
You have to take some water with you if you want to keep your body hydrated while cycling. The workday is never easy when you're dehydrated.
The CamelBak Podium Chill is one of the best bottles out there.
This bottle will keep your water cool twice as long as most regular sports bottles. The CamelBak keeps warm beverages warm, if that's your thing. It's lightweight, with an ergonomic design that looks good and ensure a good grip when you lift and gold the bottle.
A self-sealing drinking jet valve is also incorporated, making it easy to squeeze and drink your beverage. The vessel itself has a wide opening to facilitate quick filling and cleaning.
Check availability
Regardless of what water bottle you choose, it's usually a good idea to equip your bike with a water bottle cage that gives you easy access to your drink.
Portable bike pump
Nobody likes to get a flat tire while cycling. If you carry a spare and a portable hand pump, you can get quickly back on the road and maybe even make it to your first meeting of the day. A mini pump can be safely stored alongside your saddle post.
The Topeak mini pump is one of the best portable pumps in the market. It's easy to carry and easy to use.
Check availability
Fenders or mudguards
Many cyclists ignore fenders, also known as mudguards, yet they are so handy when you ride in harsh conditions. They keep water, dirt and mud away from both you and your bicycle.
There are fenders for touring bikes, road bikes, mountain bikes, and yes, commuter bikes. The type you choose will depend on the style and size of your bicycle. Some are quite easy to install and others are slightly more complicated. Your local bike shop can usually do it quite quickly for a very reasonable price.
Check availability
Bike cover
At times you may park your bicycle, then it starts raining. To protect your bike in this situation, a bike cover is great to have. A waterproof bike cover will keep your bicycle in the best possible condition.
Most of bike covers are durable and easy to clean. If you choose one with a lock hole, you can lock up bike and cover at the same time.
Check availability
Cycling mirror
A cycling mirror functions the same way as the side mirror of a car. It lets you get a crystal clear view of oncoming traffic, so you don't make any poor decisions as a result of not being aware of your surroundings.
You can adjust the mirror according to your preference. Most are designed so that they can be adjusted to fit different types of handlebars. If you're an everyday commuter, it's definitely worthwhile installing a mirror on your bike for added safety.
Check availability
Portable Bluetooth speaker
OK, maybe we're stretching the definition of "must-have" here, but a portable Bluetooth speaker can really spice up your cycling experience. You can find speakers that are designed specifically for cycling. This is safer than cycling with headphones or earbuds, because they allow you to hear the sounds of the road.
A cycling speaker can be easily attached to the frame or even handlebars of your bike. The Avantree Cyclone is one of the best portable Bluetooth speakers for cyclists. This one is capable of delivering 10 watts of crystal clear sound.
Check availability
Reflective jacket
A reflecting jacket is essential when cycling at night. The jacket will alert other motorists and road users that a cyclist is approaching and that they should be careful. It's also a good idea to wear other pieces of reflective clothing on the bottom half of your body.
Check availability
Bike bell
A good strong bell will help you alert unaware pedestrians or motorists that you are approaching and that they should be careful. There are many bike bells to choose from. Without one, you'll be relying on your voice and that can be difficult if you're out of breath.
Check availability
Tool kit
Your bicycle may experience some mechanical hitches while you're riding. In these situations, a tool kit reveals its value. A good tool kit will contain the basic accessories that you may need for a quick repair of your bicycle. These might include lube, wrenches and screwdrivers. You should also consider purchasing an extra tube in case your current one gets punctured while cycling.
The components of your tool kit may vary depending on what kind of bike you ride.
Check availability
Wet wipes
Many cyclists don't think of this one. Wet wipes can refresh you after a long commute. They're a big help if you have to cycle somewhere where you won't be able to get access to a shower.
Check availability
Cycling shoes
When cycling, you should wear special shoes. Cycling shoes should be light and should also be stiff to enhance power transfer. You should look for a shoe that fits you comfortably, with the correct width. You should also consider ventilation, making sure you get some circulation of air around your feet. An easy but safe fastening mechanism is ideal. You can opt for cycling shoes with laces or ones with straps if you have problems with laces getting stuck in your bike chain or around your pedals.
We love these Tommaso Roma shoes because they have cleats that can be used with the right clip-on pedals, but the cleats are recessed which means you can still walk in them easily, or use them with flat pedals. They're the best of all words for the cycling commuter.
Check availability
Sunglasses
Bright light can impact your vision when cycling, so a good pair of sunglasses is a worthwhile investment.
Check availability
We can all agree that cycling is fun. To enhance your experience, you should have the right gear. When in doubt, go for high-quality gear with extra durability so you can spend more time riding and less time shopping.
We hope you'll find the recommendations above to be valuable, and one day wonder how you ever got along without them.
Want to plan your commuting route? See our post on how to create a cycling route using Google Maps.