No doubt you've begrudgingly strapped your skull into a cycling helmet and were immediately disappointed to find that it made your head look like an inflated mushroom.
Safety versus style. It's an age-old conflict.
If you've arrived here, then at least you know you need a helmet. You're giving safety its due, and that's a great place to start!
The truth is, if you're looking for a bike helmet that doesn't look stupid, there are many excellent types of helmets out there nowadays. We're going to get to them in a minute, but first, some things to think about before you shop…
Things to consider when choosing a bike helmet
As you search for your brand new super stylin' helmet, let's go over a few considerations that will help you narrow down the choices.
Shape
Bicycle helmets come in wide range of shapes, depending on what kind of cycling you're doing. There are city helmets, mountain bike helmets, performance helmets and simple all-around helmets.
For simplicity's sake, I've broken them down into five categories:
Most of the brands listed below make helmets for a range of activities and thus offer helmets in more than one category. I will return to and expand on these categories further down.
Fit
You want a helmet that's comfortable, and preferably adjustable. Can the straps be tightened? Is the casing fitted to your head? Or is it a 'what you see is what you get' model?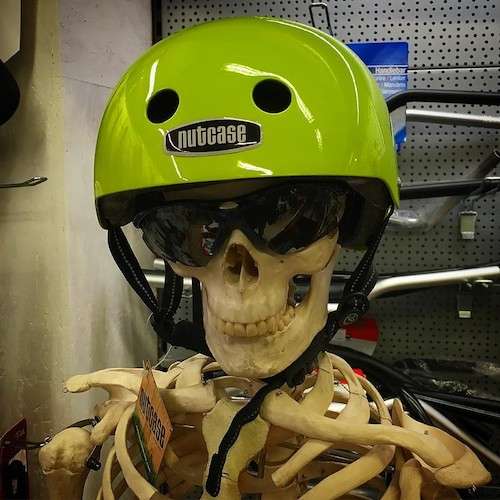 If you have a particularly large head, you might want to look at our post on bike helmets for big heads and see what you find there.
Pads
Almost all helmets come with interior padding. Is it removable? Is it replaceable? High-end companies take pride in using breathable material to improve ventilation and air flow during sweaty rides in the sun.
Safety standards
Having the peace of mind that your mind won't end up in pieces is a huge benefit. After all, helmet usage is all about preventing head injuries. Knowing that your helmet has been tested and upholds certain standards makes a higher price point worth it.
The Multi-directional Impact Protection System (MIPS) is the latest in brain-protection technology. It's available in high-end models, across brands, for serious athletes. Check out our post about whether or not MIPS helmets are worth it.
The Consumer Product Safety Commission (CPSC) is in charge of regulating safety standards in the U.S., where many of these helmet-manufacturing companies are based.
Cost
As with everything, the more you pay, the more features you're likely to get, the better warranty you're likely to get, and the better overall product you're likely to get.
So let's dive into our list of bike helmets that don't look stupid…
Cycling helmets
These are the traditional oval-shaped helmets with the long vents. It's the type of helmet you're used to seeing and probably trying to get away from. These are the most common cause of the dreaded mushroom head. Fortunately, bike helmet manufacturers have heard our cry!
Check availability
The Schwinn Traveler is an entry-level model that's popular, affordable, widely available and it certainly does the job. They've evolved from the common shiny plastic appearance to mimicking the refined look of higher-end models. The lineup includes both the traditional shape and skate style
Check availability
Bell is another classic brand that you may associate with that outdated look. However, they are an experienced and trusted company with excellent safety standards, including MIPS technology. Bell's offerings include BMX and Mountain bike helmets, but they've also redesigned road helmets like the Stratus with a slick new swish look.
Check availability
Although traditional in appearance the TeamObsidian helmet offers convenient specialty features including a detachable visor, washable chin straps and pads and both vertical and horizontal adjustments. These helmets tend to be ranked as winners time and again when compared to other brands.
Party-in-the-back helmets
The problem with traditional helmets is that they tend to sit on top of one's head instead of providing the familiar snug fit of a hat. Helmets that keep the traditional oval shape but have more coverage in the back tend to look better and feel more secure.
Check availability
Giro is an American manufacturer that has been operating for over 35 years. The company has a long history of innovation and is committed to improving their product line for function, safety and of course, style. The Giro Chronicle is designed for mountain biking but also looks great on the street, and shows Giro's attention to detail—right down to the number and size of its helmet vents. Giro stands by its products with a one-year warranty and was among the first to adopt MIPS technology. Giro gear is often worn by Olympic athletes.
Check availability
Originally a ski-goggle company dating back to 1965, Smith has a long history as one of the most trusted brands in sports apparel. They branched out into helmets 2006 and bike helmets in 2013. The Smith Optics Session is another mountain bike helmet that has an adjustable visor and comes in a variety of colors if you want to get wild. It also comes with a lifetime warranty.
Don't let the mullet reference fool you. I think these party-in-the-back designs look great!
Skate helmets
For those trying to get away from the traditional cycling look altogether, skate helmets offer a great alternative. Also referred to as "half-shell" helmets, they offer increased coverage and quite a bit more variety.
Check availability
While not exactly a skate helmet, the Bern Hudson's profile comes from the same lineage. It offers MIPS-equipped head protection in a package that isn't going to offend anyone. It's the bike-commuter equivalent of a button-down Oxford, although you can find more colorful versions if you wish. The rear light is removable, as is the front visor. A great helmet if you mean business.
Check availability
The Tony Hawk Signature Model offers dual certified EPS protection along with thick and thin removal liners for a customizable fit. They are very reasonably priced. If the Tony Hawk model isn't your thing, Triple Eight also offers other helmets in a wide range of colors and prints, including rainbows and lightning bolts!
Batting/equestrian helmets
Don't worry, we are still talking about bike helmets. Here I'm referring to the style that provides a little more ear coverage and usually comes with a built in brim.
Check availability
If you're searching for something out of the ordinary, Nutcase is the brand for you. Founded on the principle of making helmets fun again, this Portland-based company goes the extra mile for originality. Art is at the forefront of their design process.
Check availability
For Gloria Hwang, the founder of Thousand Helmets, safety and style is personal. She admits to never having worn a helmet herself until she lost a friend in a bike accident. The company's name is inspired by their commitment to save a thousand lives by creating cool helmets people actually want to wear. I think the Chapter helmet is one of them. Their designs are sleek, modern, unique, and backed by an anti-theft feature that enables you to lock the helmet to your bike. If it is somehow still stolen, they will replace it at no charge.
Helmets in disguise
You've searched high and low, scanned pages of websites, hit all the stores and still can't find a bike helmet you want to wear. Don't give up yet! These next two brands took it to heart and designed bike helmets that barely even look like helmets.
Check availability
Are bucket hats your thing? Perfect, Yakkay has got you covered. Their Smart Two helmet can be purchased with an array of stylish covers. That's the French Herringbone above, but they also have Straw Hat, Milano Dark Blue Denim and Tokyo Pink Jazz, among others.
Certified in accordance with both European and American safety standards, these Danish-designed helmets were created with fashion in mind. Not only can you pick a helmet more aligned with your personal style, you can also change it up. With their custo- designed helmet covers, you can color-coordinate with every outfit.
Check availability
The Torch Apparel T2 most closely resembles a ski helmet but these are the bike helmets of the future. They come with built in LED lights in the front and back. The spotlight will literally be on you. So it's a good thing they look great, because wearing one is sure to grab attention.
There you have it, 11 brands that vary in shape, purpose and style. They're all quality designs that have your individual expression in mind. And best of all they will all keep your noggin intact. Your helmet won't look stupid at all if you take a spill and it's the only thing keeping your head from splitting on the pavement.
For women who like to wear a ponytail while riding, see our post about the best bike helmets for ponytails.
Image at top: © Umberto Brayj | Creative Commons