Most bike helmets are created for consumers' average head sizes. This makes good economic sense for manufacturers, but it's a problem for cyclists with larger head measurements.
It's frustrating looking for a cycling helmet that fits. You may end up settling for an uncomfortable, poorly fitted helmet that does little to protect you in an accident.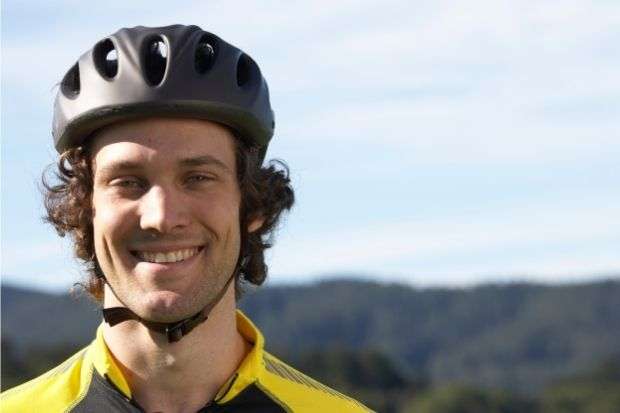 That's why we've created this guide to bike helmets for big heads. It will help you figure out your head size and narrow down the best helmets on the market for you.
We put three helmets on our podium, so let's start with a quick look at those and then we'll get into the details further down.
Top three bike helmets for big heads
Why is it important to find the right bike helmet?
Cycling at 20 mph or more is quite a thrill. However, if something happens and you lose control of the bike, the next few seconds could change your life. Few things will impact you like a serious head injury. A well designed, properly fitted helmet could be the difference between getting scraped up and suffering a traumatic brain injury.
Even experienced and and cautious riders are at risk. You can control your own bike, but you don't control jaywalkers, cars skidding on ice, and startled animals bursting from the park bushes. A helmet is a vital piece of your riding equipment, and in many states it's a legal requirement.
However, people with larger heads know that finding a well-fitted helmet is easier said than done.
How do you measure head size?
You want to know your head circumference measurement in centimeters. To find this, get a flexible tailor's measuring tape or a long piece of string. Wrap it around the widest part of the head, just above the eyebrows and ears. Make sure it's snug but not cutting in.
Read the centimeter mark on the tape or hold the measured string up to a ruler. You can convert this number to inches, if needed, by dividing the centimeters by 2.54. Large helmets start at around 60-62 cm (23.5-24.25 inches) and up. The largest helmet on this list fits heads up to 66 cm.
You may want to do this measurement three times and check that you're getting consistent results. It's critical to find the right number, or you're going to waste a lot of time.
What makes a good bike helmet for larger heads?
Once you've found some helmets that are technically the right size, it's time to evaluate their features.
Material and construction
Most helmets are constructed with an inner liner, an outer shell, and straps. You may come across materials like an EPS liner (expanded polystyrene), nylon, metal mesh, or other materials. Check for liners that won't trigger any skin allergies you may have.
Outer shells are typically made of PET plastic or polycarbonate. The helmet straps may be nylon, polypropylene or leather. We discuss adjusting the fit below, but for now just make sure that the buckle is comfortably placed and doesn't dig in.
Finally, double-check that the helmet complies with Consumer Protection Safety Committee safety standards. Look for 'CPSC' on the documentation.
By the way, even a well-constructed helmet will eventually expire. The CPSC recommends replacing intact helmets after 5-10 years' use. If you notice wear and tear or have been in a crash, that helmet is compromised. Replace it right away.
Protective features
In addition to their mold construction, certain helmets have additional protective features such as fused layers or micro-structures inside the shell. These absorb more impact, meaning less force reaches your head. They can also reduce helmet weight.
Some helmets are also designed with a Multi-directional Impact Protection System, or MIPS. These are 10-per-cent better at protecting you from rotational impact, which is significant in certain kinds of accidents. Check out our post about whether or not MIPS helmets are worth it.
Many helmets have visibility stickers for poor light conditions. If the unit you're looking at doesn't come with this feature, these stickers are affordable and easy to apply.
Fit
Bicycle helmets that are too big will feel loose even when the adjustable straps are fully tightened. They can also rub, causing friction rashes and sliding in front of your eyes. Meanwhile, if you squeeze yourself into a helmet that's too small, you may deal with headaches, shortness of breath, reduced peripheral vision or even pressure-triggered hair loss. In both cases, the poor fit will also compromise safety and performance on the road.
You're looking for a helmet that hugs but doesn't squeeze the head. It should sit level, not tilt back or sag forward. However, it does need to be fairly low on the forehead. Try the finger test: can you fit two fingers between your eyebrows and the front edge? That's the right position.
Many helmets won't hit the sweet spot right out of the box. That's why they come with adjustable fitting systems. These include buckles on the straps, adjustment knobs on the helmet's back and removable foam fitting pads.
Comfort
Much of a helmet's comfort comes from a proper fit. If you're having issues, take another look at how it fits your head.
However, manufacturers also enhance that comfort with extra features. One of these is strategic padding using sweat-absorbing materials. This cradles your head and wicks sweat away during vigorous rides. These pads are usually removable and washable, so you can keep them fresh.
You may also run across cushioned chinstraps and buckles with a low profile on the skin-facing side. These reduce chafing and pinched skin.
Finally, mountain bike helmets will have breathability features. These can include more breathable fabrics in the construction, but it mostly means vents. Ventilation systems allow wind to flow over the head, keeping your head cool and reducing sweat. Vents and air channels also cut air resistance. These systems are carefully designed not to compromise overall protection.
Additional features
A number of bike helmets include some form of built-in eye protection. You may see mention of detachable visor shields, magnetic goggles, and similar things. If you're out in the daytime a lot, look for a removable visor with UV protection and polarized coating to cut through glare.
Last but not least is the helmet's appearance. Unfortunately, at the large end of the market, you'll have more limited options for helmet colors and patterns. To be sure your bike helmet doesn't look stupid, prioritize finding one with the right profile. You can always personalize it with decals or have it painted.
Bike helmets for big heads, largest to smallest
Have that circumference you measured handy? This list is ordered by size and then weight, making it easy to skim for your head size. We've also touched on fit features and accessories like visors to help you narrow down your options.
Check availability
The X-Large size of the Starvos WaveCel isn't just marketing hype. It's one of the biggest helmets on the market, fitting heads 60 to 66 cm. The XL size weighs in at 375 grams. This isn't the most lightweight helmet around, but it's a small trade-off for such a large helmet. The interior is lined with WaveCel, a sophisticated system of collapsible cells within the helmet's structure. That technology, along with an outer polycarbonate shell design, helps absorb impact during accidents.
Bontrager has kitted this streamlined helmet out with a Headmaster Fit System, letting you fine-tune the helmet height and circumference. There's washable, sweat-wicking padding and air flows through generous vents.
Check availability
The Smith Optics Signal helmet fits heads from 61 to 65 cm. It weighs about 400 grams, on the heavier side for this list. Smith optics designed this with multiple layers of protection between your head and the road. This is through a polycarbonate shell fused to an EPS liner, integrated MIPS protection, and performance comfort lining.
What about functionality? Signal has a VaporFit adjustable fit system. This will keep the unit snug on a rider's head. However, that rider will stay cool and comfortable thanks to AirEvac ventilation technology and an arrangement of 21 large vents. The overall experience is secure and cozy, which explains why the X-large size of the Smith Signal keeps selling out. If you're facing an 'out of stock' sign on the website, take a look at the Large size. That can fit up to 62 cm heads and runs a little lighter, too.
Check availability
The Montaro fits 61 to 65 cm heads and weighs 391 grams. This helmet has integrated MIPS technology with an in-mold polycarbonate shell with an EPS foam liner. The design helps reduce the weight, while the built-in roll cage increases the unit's strength and protective capability. Padding in the helmet has hydrophilic and anti-microbial tech, absorbing your sweat as you ride.
Giro has added a few standout features to this helmet. One of them is the breakaway camera mount. You can install a separate mount on many helmets, but a built-in one is less trouble and more secure. The breakaway capability is a safety feature in the case of accidents. This helmet also has a visor with one-handed adjustment.
Check availability
The Bell Sixer MIPS helmet offers a balance of performance, comfort, and good looks. The extra-large version is sized for 61 to 65 cm and weighs 363 grams. On the performance front, the Sixer has a MIPS system for maximum protection from rotational forces. The outer shell of polycarbonate is fused to an inner EPS liner for increased strength and everything is adjusted with float fit technology. Don't dismiss that lining, either. A network of different EPS foams are used, creating something like a roll cage for your head.
Bell's Sixer has a sophisticated ventilation system. Fresh, cool air funnels in through four brow vents. Heat is flushed out through the 26 vents distributed through the shell. Anti-bacterial and anti-microbial tech is woven through the helmet's padding. These features come at a higher price tag than the Falcon below, putting the Sixer in the high-end price range.
Check availability
The X-large size of Smith's Persist cycling helmet fits 61 to 65 cm heads and weighs a bit over 300 grams. It has an in-mold polycarbonate shell, an EPS liner, and a MIPS protection system to shield riders from angled impacts. This helmet offers riders a snug fit through their intuitive VaporFit adjustment system. The dial-driven mechanic can tighten along 270 degrees of the helmet.
It may be snug, but the Persist is still comfortable thanks to a smart arrangement of 21 air vents. These, along with the helmet shape, direct moist air away from the face and reduce fog. The vent system integrates smoothly with Smith brand eyeware. Other sunglasses may be compatible, too.
Check availability
Bell's Falcon helmet in X-large fits 61 to 65 cm heads and weighs a moderate 297 grams. Multiple construction elements were streamlined to get the weight low while keeping quality high. These include EPS foam lining, a light yet strong polycarbonate outer shell, and plenty of vents.
The Falcon is a crowd-pleasing piece of gear, performing well all around. It's protective, with built-in MIPS tech. The 18 vents keep riders comfortable. If anyone does get sweaty, a sweat guide pad will keep moisture away from the face. Finally, this Bell helmet was created with a float fit. A rubber dial integrated with a slip plane helps riders perfect their fit on the fly.
Check availability
This helmet can fit a head size of 63 to 64 cm and weighs a petite 220 grams. It's impressive that Kask got the Mojito's weight down so low with all the features this cycling helmet offers. There is an expansive polycarbonate shell encasing the cap, ring and rear. In-mold technology has bonded the inner polystyrene to that shell, improving shock absorption.
This bike helmet has some thoughtfully designed additional features, including a washable eco-leather chinstrap and inner padding that's antibacterial and antimicrobial. The overall profile is a sleek one, advertising the Italian aesthetic of the company. It's also eye-catching thanks to its pre-installed high visibility stickers. We love this helmet.
Check availability
A bigger helmet is naturally going to be heavier, but Kingbike has found a way to cut a lot of weight without sacrificing protection. Their budget-friendly Ultra Light bike helmet's L/XL size fits 59 to 63 cm and weighs just 222 grams. It has a standard combination of polycarbonate shell and EPS foam lining.
The Ultra Light features dial adjustment, 24 vents, and a sun visor. There's a built-in rear LED light with three modes: always on, fast flash, and slow flash. You operate this feature by pressing against the center of the light in a four-press cycle. This helmet's also available in a wider variety of colors and patterns than many of the bikes on the list.
Check availability
This isn't the largest Bontrager to make the list (see the Bontrager Starvos above). However, the XXX WaveCel does fit a respectable 58 to 63 cm head circumference. It weighs 390 grams. The helmet itself has a BOA Fit System, letting you adjust its fit one-handed. This high-end model also comes with strap dividers for additional fit control.
The XXX WaveCel is easy to clean. Its interior has a built-in sweatband that just snaps out and back in. This helmet's exterior design is also smart, sporting an aerodynamic shape and silicone channels. This maximizes air flow over the head, so the sweatband doesn't have to work as hard keeping sweat out of your eyes. Finally, the WaveCel tech adds another layer of crash protection.
Check availability
Troy Lee Designs spearheads their high-end gear with the A1 Classic. This helmet sizes up to 60 to 62 cm and weighs 400 grams. The reinforced polycarbonate shell extends over the rear and sides of the helmet, offering enhanced angled protection. Inside, you'll find a standard EPS liner integrated with MIPS technology. The A1 Classic also has an adjustable visor with full spectrum UV protection.
This cycling helmet features eight pressurized intake channels. Air is drawn in through them and vented through vacuum vortex outlets at the back of the helmet, creating a smooth and efficient air stream. This is a great feature in the summer, but what about cooler temperatures? Multiple reviewers note that the helmet can be secured over a skull cap or knit hat, a great feature for commuters riding in the winter.
Check availability
Schwinn's Thrasher is a good option for people on a tight budget who need some headroom. It can fit up to 62 cm heads in its largest size and weighs 356 grams. The design features a durable three-piece PVC microshell and EPS foam. Speaking of design, the adult-sized Thrasher helmet comes in a respectable range of colors and patterns over a distinctive, minimalist appearance. This stylish look is also functional due to an integrated system of airflow channels and 20 top ventilation vents. That top-focused placement keeps the head cool while efficiently reducing wind resistance.
The thrasher offers 360-degree adjustments via a Dial-Fit strip, alongside standard side and chin straps. Pads in the helmet wick moisture and further increase the fit and comfort. The helmet includes a removable visor, and some models have a rear LED with steady and flash modes.
Check availability
In the larger size, the Smith Convoy can fit a head circumference of 59 to 61 cm. The helmet weighs 355 grams. Many riders choose the Convoy for the sophisticated fitting system. The VaporFit technology offers up to 5 cm of rotary adjustments, letting riders angle the helmet up and down, forward and backwards. This is in addition to the usual arrangement of straps and buckles.
Smith's Convoy offers MIPS through a low-friction layer that can slide up to 1.5 cm in any direction. The layer is designed to slide and take impact, reducing force sent to the rider's head. This helmet also features 20 ventilation ports in its AirEvac Ventilation system. AirEvac is designed to pull warm air away from your sunglasses, reducing fog and visual distortions.
Your second most important piece of gear
Bike helmets can save your skull in an accident. However, they aren't just engineered for utility. Many of these helmets are stylish, comfortable, and can take the place of those sunglasses you keep losing.
This is your most important piece of gear other than your bike, so it's worth taking the time to find the right helmet. Start with an accurate measurement of your head circumference. Read our guide on helmet features to figure out what you want. Then take a look through our list. We've included a wide variety of extra-large sizes to suit different riders and uses.
Somewhere in here is the helmet that fits your needs and price point.