Biking is a great way to get exercise and vitamin D as you commute to the office or explore the great outdoors. It's faster than jogging, cheaper than a car, and better for the environment. People love to ride…
…up until that fateful day when they're pedaling home on shaky legs after 10 hours on their feet at work. Or what about when it's 100 degrees out and you're huffing and puffing up a hill with no crest in sight? When you run out of stamina on a bike, those last 10 miles can feel like you're running a marathon.
Electric bicycles have the same convenience and eco-friendly value of a regular bike, but they've got an ace up the sleeve. That motor steps in when you need a power boost or a little break from pedaling. Ebikes offer many of the advantages of an engine-driven vehicle, while still giving bike lovers the freedom and compact size of a regular bicycle. That's why we've rounded up the best budget-friendly models out there right now. Keep in mind that the prices for these bikes can vary over time, but they should all be pretty close to your $500 budget.
Best Ebike Under $500
Our pick for the best ebike under $500 is Swagtron's EB5 PLUS, since it has most of the essential features that you'll need.
Swagtron EB-5 PLUS Folding Electric Bike
YOUR RIDE, YOUR RULES — Go full throttle up to 15 mph on battery power alone.
DESIGN THAT PERFORMS — Premium build. Eye-catching design. Up to 15.5 miles on a single charge and conquer steep hills and 30-degree inclines with ease.
RIDING IN COMFORT — The height-adjustable seat and handlebar gives you complete control over the comfort level of your adventure. And the high-performance 14-inch air-filled tires deliver smooth, stable rides — even on uneven pavement.
EXTRA BATTERY = EXTRA MILEAGE— Grab an extra battery (sold separately) and swap out the old battery for longer adventures.
Top 3 Best Ebikes Under $500 at a Glance
| Image | Product | Buy |
| --- | --- | --- |
| Top | Swagtron EB-5 PLUS Folding Electric Bike | See Deal |
| | ANCHEER 250 W Electric Mountain Bike | See Deal |
| | ANCHEER 350 W Electric Mountain Bike | See Deal |
Your Complete Buyer's Guide to the Best Ebike Under $500
Bike riders need to balance a number of factors, from frame material to brake style. Ebikes make the situation a little more complicated. Along with the usual concerns, you have to consider the battery and how the motor interacts with the bicycle.
Here are some important factors to keep in mind and what you can expect in this budget-friendly, affordable price range:
Bike Type
Nowadays, all the major bike types have ebike options. The right one for you depends on what you plan to use this bike for. Common ones you'll see on the market include:
Road bikes – ideal for paved surfaces and built for speed
Commuter bikes – similar to road bikes, but may encourage a straighter seating position, have easier saddlebag installation, etc.
Mountain bikes – offer the shock absorption and handling needed to conquer rough trails
Gravel bikes – similar to mountain bikes, but with specialized features for very unstable surfaces
Folding bikes – usually a road bike that can be folded compactly in half, although other bike types may be available with folding capability
Electric Components
Battery
The battery capacity determines how long the bike can run between charges. You'll often see it measured in Ah or volts. Sometimes the manufacturer will give an estimate in hours duration. The ebike's information may also include the number of charge cycles before the battery degrades. This is typically between 500 and 900 charges. Some batteries are also removable. This lets you ride your bike around under pedal power while the battery's at home charging up.
Power
What wattage can the motor kick up when you push the button? The higher the output, the better. High-wattage motors help you get up steep hills, and they get less hot. Many bikes in this range have a 250 W motor.
Motor Type
Electric bikes have three types of motors. Rear-hub drives are most often seen on budget bikes. These, and mid drives, tend to keep traction better because there's more weight on the back tire stabilizing the unit. But they're harder to repair.
Front hub drives are reliable and easier to work on, but can be tricky to use. They have less power because they lose traction easily. Some riders also find that the pulling sensation of a front-mounted drive feels strange when they're going fast.
Modes
Electric bikes may come with up to three modes that you can switch between:
Electric mode. This mode is fully powered by the battery. Some ebikes only have this mode, and don't even have pedals for input. If the battery runs out mid-trip, you're walking.
Pedal assist. Here, the motor kicks in when you're actually pedaling the bike. It also provides less power, as some of the drive forward is coming from the motion of your legs. This mode helps you extend the battery life and run the bike for longer. Pedal assist offers less help for challenging conditions such as steep hills or when the bike is near its load limit.
Unpowered. This is the pedal-only mode that you're probably familiar with from a conventional bike or manual bike. The only power is coming from you. If you anticipate running in unpowered mode frequently, keep an eye on the ebike's total weight. These devices tend to be heavier and harder to pedal.
Speed and Mileage
When you're pedaling, the speed is up to you and the road. For ebikes, this metric means the speed that the bike achieves on battery power. Remember that faster speeds require more focus on the road, better shock absorption, etc. Budget electric bikes tend to reach a maximum speed of up to 20 mph, but rarely go much faster.
Mileage refers to the average distance the bike can cover on motor power and a single charge. It's determined by battery capacity, the motor quality, and to some extent the kind of trails you take and the way the ebike is handled. There's a lot of factors that go into mileage instead of a strict scientific formula. Treat the mileage of a new, unfamiliar ebike as a rough estimate rather than as a number you can count on.
Bike Structure
Bike frame
Ebikes at this price point tend to come with either aluminum or steel frames. Aluminum frames are more expensive, but they're also lighter and demand less from the battery. Steel frames keep the price down, but it takes more power to move this heavier bike. However, keep in mind that the frame is not your total bike weight. The battery, driveline, cargo racks, and other features all add up.
Brakes
Good brakes are critical for bikes that can travel at speed. Some bikes offer disc brakes, while others are rim-style. Rim breaks are cheaper, but may not perform well in wet and dirty conditions. Many ebikes offer regenerative braking, which improves their stopping power and can return a little charge to the battery.
Adjustability
How do the handles and seat adjust for height? Do they offer enough points of adjustment that you can get the right fit? If you're significantly taller or shorter than average, you may need a bike built for your frame.
Portability
How much does the ebike weigh? With the battery and motor factored in, it'll already come in heavier than a comparable standard bike. This can be a major burden if you're forced to carry the bike during hill climbing, or for a long distance, or over uneven, slippery, or rough terrain. Try to find bikes under 40 pounds (18 kilograms) for carrying ease.
Extra Features
Folding Capability
Some electric bikes fold up. This can be a real benefit for people who live in apartments or who need to transport their bike in the trunk of their car. It also introduces potential weak points in the frame, so make sure you invest in a sturdy ebike from a reputable manufacturer.
Monitors
What about a monitoring screen? Not every budget ebike will have an LCD screen, but it's a useful feature. The monitor can help you watch your speed, track the distance you ride, and keep an eye on the battery level. If you've got your heart set on a bike that doesn't have one of these monitors, check if the bike can connect to your smartphone. You might be able to rig up your own screen with the right holder setup.
Safety
Planning to use an ebike as your main form of transportation? Check that the model is road-worthy with handy features such as front lights, a tail light, a brake light, a horn, and waterproof battery coverage for a safe ride. You'll also need to figure out some kind of locking mechanism to make sure the bike's where you left it after class or work. Finally, some people replace the tires with designs that have more grip on wet roads (after rainy weather or other terrible weather conditions) or ones that offer better performance on pavement.
The 9 Best Ebikes for Under $500
Are you looking for a technically advanced ebike that offers maximum range? Something easy to handle and maintain? A rugged bike at home on rough forest trails? Below is our list of the best budget-friendly models in a number of categories.
Check availability
Swagtron built the EB5 PLUS with a beginner rider in mind. This folding electric bicycle has an intuitive seven-speed driveline and the 350 W rear hub motor tops out at 18 mph. The battery runs for 15 miles, or double that with pedal assist mode. You can also swap the batteries out to increase the powered range.
With a foldable design, it folds up at the frame, handlebars, and pedals, making this electric bike easy to tuck into the trunk of a small car. It's overall affordable, reliable, and a great introduction to ebikes for people who don't want to be overwhelmed with fiddly features.
Check availability
This is ANCHEER's more budget-friendly version of their well-regarded 500 W mountain ebike. The ANCHEER 250 W Electric Mountain Bike is a ruggedly built bicycle that, with the right tires, can perform quite well on rougher trails. There are multiple adjustment points that can help you get a better fit. The 15-mile speed and 15-mile range isn't the best on this list, but you can coax a little more out by switching from electric bike mode to assisted bike mode. For the price, you are getting dual disc brakes, 21 speeds, and an impressive 330-pound load capacity.
Check availability
Are you interested in the previous bike but looking for a little more? ANCHEER's 350 W Electric Mountain Bike is similar, but has an upgraded motor and battery. You're looking at a 350 W rear hub motor and a 36 V 10.4 Ah battery. That combination can get you a max speed of 20 mph and a range of 22 miles, or 40 miles on pedal assist mode. Just like the previous electric bike, this one features mechanical disc brakes and a 21-speed Shimano Tourney. Note that it doesn't exceed the 250 W in every metric. Riders who are 6 feet and taller have reported in customer reviews that the frame's too small, and its load capacity is a bit less. However, a 300-pound load limit is still quite good in this price category.
Check availability
If you foresee having to carry your ebike around, be aware that the Sailnovo weighs in at 55 pounds despite a lightweight aluminum frame. That's mostly due to the large 36 V 10.5 Ah battery and strong, 350 W motor. Despite being a heavier bike, it can reach up to 18 mph, has a range of 28 miles, and is able to climb 15° slopes in electric mode. It can master hills, but what about trails? This ebike has smartly designed shock absorbers and can sail over rougher terrain.
Check availability
Hyper Bicycles is sticking to a more traditional design with this highly functional mountain bike. The E-ride has an aluminum frame and front suspension fork, designed for both light trail rides and commutes. The 250 W brushless motor gives the bike a 20-mile range, or about an hour of pedal assistance. Hyper keeps the total cost down with front and rear V-brakes, but does include a versatile six-speed Shimano grip shifter. This ebike has a maximum load capacity of 275 pounds.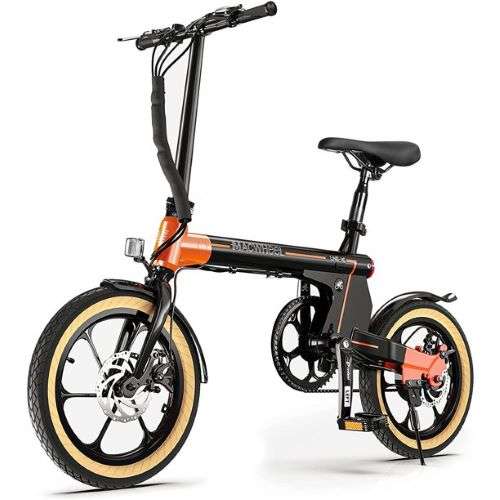 Check availability
The Macwheel Electric Bike is powered by a 250 W motor and can hit 15.5 mph. Its range is somewhere between 18 and 37 miles, which is standard for a smaller motor that may struggle to take heavier riders up hills. However, it offers a number of perks that you tend to see above this price point. There's a removable battery and a dual disc brake system. You've got a crisp LCD display, and it has three modes. It's a nice and affordable little bike that offers a smooth ride for city commutes and casual rides.
Check availability
Even unfolded, this is one of the more compact bikes on this list. It also weighs only 35 pounds, making it an apartment-friendly choice and possibly a good fit for shorter riders. Hiboy's P10 has dual brakes and a 350-watt electric hub motor with a 15-to-22-mile range. It supports all three riding modes: pedal only, pedal assist, and full electric.
One downside: although it technically has a 250-pound load capacity, this compact design ebike performs best at under 200 pounds
Check availability
The Jetson Bolt Folding Electric Bike lets you glide around the neighborhood in affordable style. It's a folding full throttle ebike with a quiet 250 W motor, a max speed of 16 mph, and a 15-mile max range. In exchange for a more modest motor performance, you're getting an easy-to-operate bike with twist throttle and cruise control settings. It also includes safety features such as an LED headlight at the front, convenient folding mechanisms, and a built-in carrying handle.
Check availability
This carbon steel bike has a basic six-speed system and two modes: electric and assist. In terms of power, it has average power for this budget listing, but a decent distance rating of up to 35 miles. For the money, you also get safety features like an LED headlamp and a horn.
The NAKTO Cargo Electric Bike is a good choice for city commuters who need to transport their shopping items back home. It has a pre-installed front basket and a rack in the back. Granted, you could put racks on another bike, but it's very convenient to have these features available out of the box.
FAQs
Why do electric bikes cost so much?
A lot of it comes down to the battery itself. Battery technology has stalled in the last few decades, and the raw materials that go into them aren't exactly cheap. Various supply chain breakdowns around the world have also kept that price high. Finally, ebikes have generally higher-running costs due to servicing, recharging, tire wear, and other factors.
Manufacturers continue to look for ways to make the price more approachable for customers. But for now, these bikes are a bit of an investment. Many riders still find them considerably more cost effective than using public transport or maintaining a car.
Do you pedal an electric bike?
It depends on the model. Most have a dual pedaling system. However, certain electric bikes are powered-only, meaning you're battery-dependent.
How long do ebikes last?
Electric bikes will usually tell you how many charge cycles you can expect from your battery. This typically ranges between 10,000 and 30,000 miles. You can extend the life of your battery by not letting the bike sit around in extreme temperatures (hot or cold) and not letting it sit long while fully discharged. Also, see our post on how to store an ebike battery.
The frame itself will last for years if you perform basic bicycle maintenance. Wipe it down after every ride, inspect it for grit lodged in the components, get any problems fixed as soon as you notice them, etc.
How fast do these bikes go?
Ebikes are limited to 28 mph powered speed. You can pedal faster than that, but those greater speeds are coming from you, not the battery and motor. That 28 mph limit is the cutoff beyond which it's considered a moped and requires a driver's license and registration to ride.
What are the disadvantages of ebikes?
Electric bikes have various advantages and disadvantages. Inexpensive ebikes do have some trade-offs that you need to be aware of. The battery and motor are the selling points here. We've listed solidly built (though often basic) bikes. If you're interested in high-end features such as ultralight frames, you'll have to up your budget or hope to get lucky on the resale market.
Speaking of the battery, it's both the star of the show and, potentially, a drawback. Batteries that aren't properly maintained can lose their charging capacity prematurely. Then you'll have to invest more in the bike to get a new battery put in. Budget bikes may also lack the battery size needed for long, challenging rides.
Finally, double-check that you can ride your ebike in your city and on your favorite trails. Some places have passed laws restricting their use.
What about DIY electric bikes?
There are kits on the market that let you retrofit many standard bikes into ebikes. If you factor in the kit and installation expenses, they often come out at under $500 dollars for the upgrade. In return, you may get a bike that's faster, more powerful, and has a considerably longer ride distance than the discount models on this list.
Ebike kits are a handy way to breathe new life and add more functionality to a bike you love. However, kit quality and performance varies. Your older bike will also lack some of the features of a regular electric bike, such as folding capability and an LCD monitor screen. The more accessories you add, the more the price and bike weight rises. You'll want to do the math to figure out if the time, weight, and expense are worthwhile.
Final Words
The under-$500 end of the market has expanded as new people start exploring electric bikes. Swagtron's EB5 earns our top recommendation for an all-rounder built for beginners. However, that's just the beginning of your options. This list includes several mountain bikes, models with greater range and weight capacity, and ebikes with extra features such as cargo racks and LCD screens. It turns out that under $500 is plenty to get a taste of the convenience and enhanced performance of a high-quality electric bike without breaking the bank.
Thinking of going camping with your ebike? Learn how to charge a bike while camping.