Part of getting the most out of your bike ride is having the right accessories. Gadgets such as bike computers can help keep you safe while on the road whether you ride as a hobby, for transportation, or both.
Since smartphones can do just about anything these days, you might be wondering: Can you use your iPhone as a bike computer? And if so, what are the advantages and disadvantages?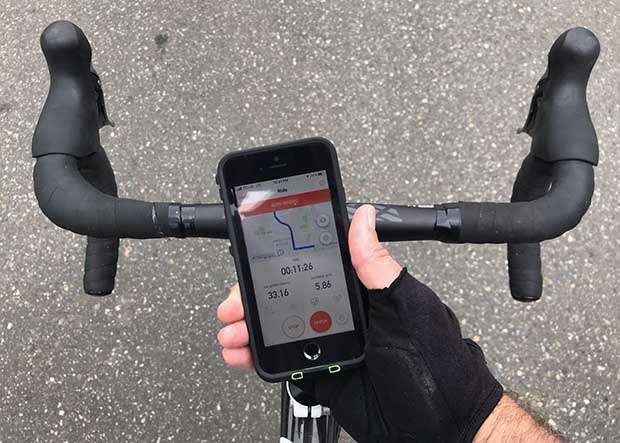 We'll provide answers for these questions, as well as a short guide for how to use your iPhone as a bike computer if you decide to try it out.
Advantages of using an iPhone as a bike computer
Savings
You can probably guess the biggest advantage: You'll save money! If you use your iPhone, you don't have to buy a separate bike computer. More money stays in your pocket.
Convenience
There's something to be said for the convenience of all-in-one devices. As many of us have discovered in other areas of our lives, the more we can multitask using the same devices, the simpler things become.
Along with the ease of having an all-in-one, you'll be less likely to forget your bike computer—either leaving it at home, or leaving it attached to the bike while you are elsewhere. If you do, it could run out of power or get stolen.
Networking with other devices
Finally, if you're a smartwatch user, you'll have the benefits of compatibility with that device. The iPhone and smartwatch communicate easily, meaning that you may have an easier time recording or extracting data about your rides afterward.
Disadvantages of using an iPhone as a bike computer
There had to be a catch, right? There are some significant downsides to using an iPhone as a bike computer.
Battery drain
The first is your battery life. While an iPhone is pretty good at multitasking, the tasks required of a bike computer take things to a whole other level that the iPhone's designers probably didn't have in mind, particularly the GPS tasks. Keeping your phone unlocked indefinitely, while also connected to maps, while also asking it to continually update your speed, location, and other data, is going to wear down the battery quickly. This can be a problem on especially long rides.
Susceptible to weather
In addition, while newer iPhone models are water-resistant, the touchscreen doesn't work well when it's wet or when your fingers are wet from the weather or sweat. This can be a problem if you use your bike to commute, since you'll likely be riding in all kinds of weather. Bike computers have physical buttons and are designed to work normally in most inclement conditions.
iPhones also have a tendency to overheat when they spend too much time in the sun, which could put you at risk if you end up needing to use the phone in an emergency.
You need it for other things
When you ride, your phone will be attached to some kind of holder to keep it in place, which is great until you want to use it for something else. Then you will need to remove and reattach it. Similarly, if you want to hook it up to headphones or earbuds to listen to music or take pictures with your phone during your ride, you'll be looking at shorter battery life, if it is possible at all.
Fragility
Finally, iPhones are fragile. If you take a spill on your bike—even a minor one—you might have to kiss your phone goodbye. Standard bike computers are usually built to take a bit of punishment. And of course, this could become much more than an inconvenience if you're hurt and need to call for help.
How to to use your iPhone as a bike computer
Buy accessories
Your first priorities should be a mount for the phone and an ultra-protective case. The Bovon Bike Phone Mount is simple, but really effective:
Check availability
For an extremely weatherproof case, you can't do much better than the Lifeproof FRE Series:
Check availability
Download apps
Many good biking apps are available for iPhone, including Strava, MapMyRide, Wahoo and Trailforks.
Also, see our post on how to create a cycling route using Google Maps.
Test it out
We recommend taking a few short rides along familiar routes to see how your combination of apps and accessories work.
Tweak your setup
Get comfortable with a particular app and make sure it's running smoothly with any accessories such as a smartwatch. Fix your mount the way you like it.
Make your decision
Is using an iPhone as a bike computer the best solution for you? If not, read up on the best bike computers for your needs and go from there.
So, can you use your iPhone as a bike computer? Yes, an iPhone can do everything a bike computer does and adds a little bit of convenience as well, but it does come with some downsides such as battery drain, and less weatherproofing and durability.
We certainly hope this article has helped you decide whether buying a separate bike computer or using an iPhone as a bike computer is the best option for you.